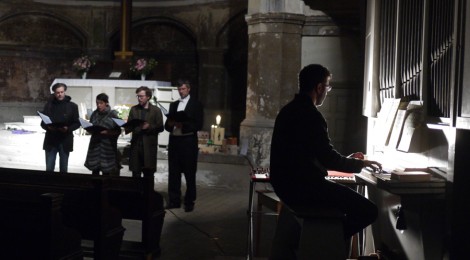 This is a recording of my piece for voices, organ and synthesizer called "Flock".
Flock was commissioned by the Morgenvogel Festival, to write a piece for voices that was inspired by birds. It was performed by the singers of Vox Nostra, an early music choir who also perform new music, as well as John Kameel Farah on organ and synthesizer.
It was premiered at the Zionskirche in Berlin in June 2012.
The various voices sing patterns which are loosely notated, and the singers imitate and follow each other, in the manner of a flock of birds. Sometimes the group reads from a sketched idea, more like a graphic score, and other times singers choose and improvise from suggested motifs, fitting together in a common pulse.
visit also vox-nostra.de