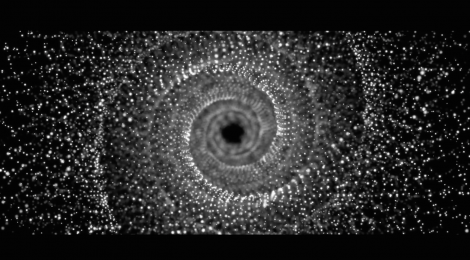 Visual artist Sahar Homami (A.K.A. S A H A R) has created a beautiful animated video for my piece "Simple Rotation" from my new album "Time Sketches", now available on CD, digitally and on vinyl.
We just received news that our video just won "Best Music Video" at the Experimental Superstars Festival in Novi Sad, Serbia!
Congratulations again to Sahar for her beautiful work!
"Both the video and the musical composition of "Simple Rotation" are based on one of my pointillistic ink drawings, one of a series of about 200. The drawing is a set of circles, each containing a smaller circle, each made up of many rows of points. The contrasting directions of the rows creates a kind of perpetual motion that is both steady and uneven. The background of the music reflects this with a gently repeating ostinato on one note, like an endless row of point-dots, alternating between synthesizer and piano tones, as other chords and textures unfold around it. When video artist Sahar Homami and I discussed making the video, I asked if she could somehow use the drawing as material. Sahar transformed it into different planes and layers of depth in her video, and in the last few seconds it reveals a semblance of the original drawing." -J.Farah
The video was featured on London-based blog "Soho Classical" along with a mini-interview, which you can view here:
https://sohoclassical.blog/2017/10/31/soho-classical-meets-john-kameel-farah/
>>We are also pleased to say that the video received a nomination in the "Best Experimental" category at the Berlin Music Video Awards recently, and placed 3rd. 
Please also visit Sahar's website to see her many other works:
http://www.saharhomami.com