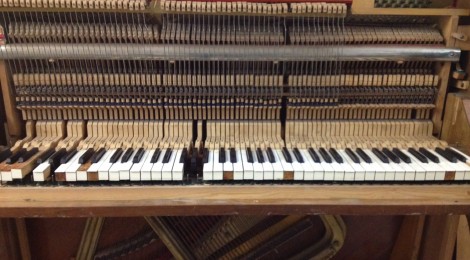 Musician and piano tuner Andrew Wedman tuned an old upright piano down one octave, to create something he calls "The Bass Piano". Not only does it sound predictably lower, but it changes the character of the piano timbre, sounding more like soft bells or a Gamelan. He is visiting Berlin and found a piano donor for his experiment. He's been retuning the piano several times per day for the last week (since jumping more than an octave, it falls quickly out of tune) and has arranged a small concert during exhibition with three other artists in the Flutgraben Art Studios in Kreuzberg, and I was delighted when he asked me to perform on it, so I dropped by the studio yesterday to test it out.
It is quite enjoyable to play; but I find one doesn't simply play it as one would a normal piano. Virtuosic pieces, or even most repertoire, change harmony too quickly, as the tone is more murky, hollow or bulbous: the strings are very loose, and can even jangle and klang against one another in the lower registers if one plays too forcefully. So it lends itself much more to more gentle reverberant chords, as if you are "strumming" the tuning, or allowing arpeggiated harmonies and cavernous melodies to sound themselves at their own rate. I'm looking forward to playing it more extensively at the salon-exhibition this Friday at Flutgraben.
The event is called "SPECULATIVE BRUTALISM SPONTANEOUS SALON" and the artists featured are: Matthias Krause, Diane Artus and Sascha Mikloweit. Andrew Wedman and I will play alternating 30-minute sets on the Bass Piano.