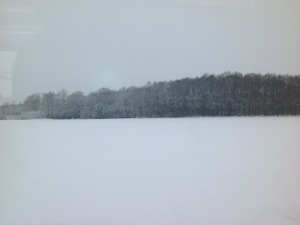 On the train: Quiet passengers and attentive audiences (Jan, 2013)
My last concert, where I performed on the Bass Piano, was in the context of an art exhibition, with the studio filled with people drinking wine and socializing. But what I loved about it so much was that when Andrew Wedman and I performed our improvised sets, all it took was a gentle tap on a glass and the whole room, even a fellow with his two rambunctious dogs, became so quiet and attentive and listened to every note. I think this is a performers dream, really, and it makes you realize how codependent the relationship between performer and audience really is.
And I'm reminded of it again right now, as I'm on a train, leaving Berlin. I'm playing in Düsseldorf tomorrow evening in a private concert series (the owner asked me not to post the invitation because they are already at capacity), followed by a concert on Friday in Cologne at the 8th annual Ambient Festival in the Basilika St. Aposteln, then rushing back to Berlin the next day to play an improvised solo piano set at Sowieso in Neukölln.
I'm looking out the window and blissing out on the beautiful, snow-covered countryside rolling by, and noticed that I lucked out on a very full, but quiet train compartment. It is just like a concert setting – it just takes one person to disturb the whole fragile mixture and then everybody's mindfulness and consideration is in vain. The train is not absolutely silent by any means, but I notice that the people that are talking, are doing so quietly, or at least one can tell they are trying to be mindful of other passengers. No one is "breaking the seam", as such. When someone's phone goes off, they answer it quickly. It's one of those synchronicity things where a few hours manages to be blissful as there is not one inconsiderate, loud, blathering person to be found that would ruin the perfect broth of this one train compartment. Perhaps it's that I had only a couple hours sleep last night, or maybe I'm developing some curmudgeonly tendencies as I get older, but I find that my concentration and creativity more and more is intertwined with the environment I'm in. When a group of people are in the same place and are all more or less on the same page, I find it to be so civilized, and musically speaking, beautiful things can happen.
A sympathetic audience can help an artist get to that zone much more easily, and allow special things to bloom. Not that it is impossible to achieve without it – sometimes adverse or even antagonistic settings can force an artist to focus even more, having no other option, and this intense pressure can create its own diamonds, but getting the mental leverage against it to make it work to your advantage can be like wrestling with an anaconda. In contrast, I remember that as recently as five years ago, no matter what the environment was, I could do a mental rhinoceros charge and achieve full concentration through any distractions, pretty consistently.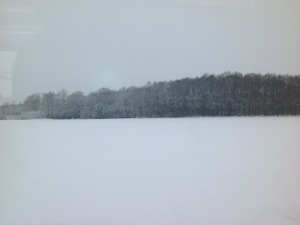 I recently went to watch a stand-up comedy night in Berlin, and was struck by how even a profession so different as live comedy could be so similar when it comes to a performer relating to an audience. One person sitting in the fourth row, talking to his girlfriend might be a source of distraction that could affect the performers concentration, and make the difference between the comedian being funny or not. I saw a YouTube video of Louis CK being heckled, where instead of him ignoring the heckler or trying to out duel them, he addressed it directly and ended up creating something even better and funnier out of this "new material" – because his whole schtick is so honest and self-depreciating, he could just openly state it was affecting his concentration and not worry about any magic being dispelled. But it's just like watching any sports match – this could have unfolded in any countless number of ways as well.
Audience, group or crowd psychology, however it might be labelled, is a fascinating thing to contemplate, since it is such a ubiquitous parameter of what I do. Each person is an endlessly complex equation of emotions themeselves, and when you add more and more poeople together the audience dynamic is made exponentially more unfathomable, and hence all the more possibilities for the performers conducive atmosphere to be thrown off balance. Since creating art is a fine, delicate thing (it can be blunt and gigantic but even a nuclear explosion stems from minuteness of atoms – strange example, I know) I've come to appreciate more and more when the perfect storm of audience, location environment and performer confluence arises. I don't mean to sound highfalutin by any means, but to me it is part of the definition of what it means to be civilized, in as far as my experience goes. Basically, it's just so satisfying and affirming when people co-operate in this subtle way! Even if not consciously.